Publication from 2020

Ziółkowski Grzegorz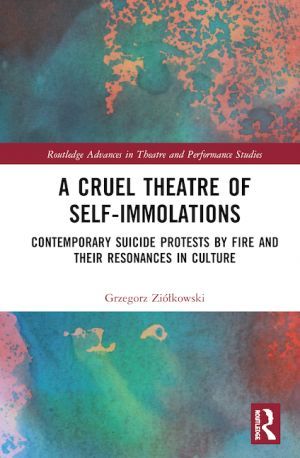 A Cruel Theatre of Self-Immolations: Contemporary Suicide Protests by Fire and Their Resonances in Culture, Routledge, London 2020.
A Cruel Theatre of Self-Immolations investigates contemporary protest self-burnings and their echoes across culture.
The book provides a conceptual frame for the phenomenon and an annotated, comprehensive timeline of suicide protests by fire, supplemented with notes on artworks inspired by or devoted to individual cases. The core of the publication consists of six case studies of these ultimate acts, augmented with analyses and interpretations hailing from the visual arts, film, theatre, architecture, and literature. By examining responses to these events within an interdisciplinary frame, Ziółkowski highlights the phenomenon's global reach and creates a broad, yet in-depth, exploration of the problems that most often prompt these self-burnings, such as religious discrimination and harassment, war and its horrors, the brutality and indoctrination of authoritarian regimes and the apathy they produce, as well as the exploitation of the so-called "subalterns" and their exclusion from mainstream economic systems.
Of interest to scholars from an array of fields, from theatre and performance, to visual art, to religion and politics, A Cruel Theatre of Self-Immolations offers a unique look at voluntary, demonstrative, and radical performances of shock and subversion.
Publication from 2020

Okulicz-Kozaryn Radosław, Okulicz-Kozaryn Małgorzata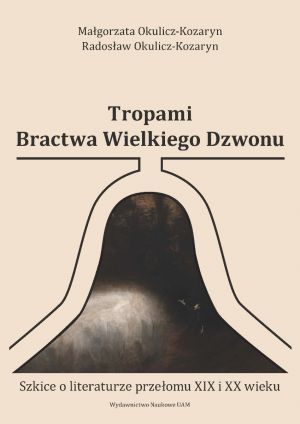 Tropami Bractwa Wielkiego Dzwonu. Szkice o literaturze przełomu XIX i XX wieku [On the Trail of the Great Bell Brotherhood. Essays on Literature at the Turn of the 20th Century], Wydawnictwo Naukowe UAM, Poznań 2020.
The book is a collection of historical and literary interpretations dedicated to artists from the various generations active at that time. The central place is occupied by essays about Zenon Przesmycki's Mystery (Miriam) as a poetic symbolist manifesto, and The Dreams of Maria Dunin by Karol Irzykowski, a hitherto unrecognised polemic with Miriam. 'The Great Bell Brotherhood' was the ironic term Irzykowski used to refer to those contemporaries of his who sought or created deep meanings of the world, the Young Poland artists. However, despite his rather harsh criticism, he himself aspired to membership of this Brotherhood, and to play a prominent role in the Young Poland movement. The other essays here are devoted to poets who can be included in the Brotherhood: Kazimierz Tetmajer, Tadeusz Miciński, Wacław Lieder and Leopold Staff. Less obvious names also appear in this context, such as Jan Lemański, Adolf Dygasiński or that uncompromising opponent of modernism, Antoni Sygietyński. All were connected by their passion for palimpsests – a tendency to cumulate meanings, camouflage and blur the literary tropes around which the artistic imagination at the turn of the century revolved.
Publication from 2020

Mikołajczak Aleksander, Borowiak Patryk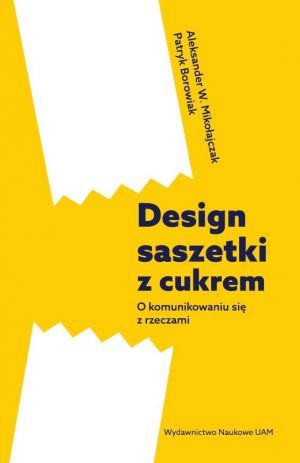 Design saszetki z cukrem. O komunikowaniu się z rzeczami [Sugar Sachet Design. On Communicating with Things], Wydawnictwo Naukowe UAM, Poznań 2020.
This book is a reinterpretation of the understanding of design until now, both as the language of things and the designed form of objects. It is not a matter of a static understanding of design, but rather about presenting its dynamism as a process through which things come into being that are used at different stages of their life in a different way: from design through production, promotion, use and withdrawal. This means that communication with these does not follow the transmission-reception framework proposed by Roman Jakobson, but boils down to using things to create a specific space for communication. This leads to a completely different way of perceiving user-communication processes, which are profoundly determined ontologically, referring, on the one hand, to the materiality of objects, and on the other, to their meaningful functionality, as well as to users' competence. This is due to several issues that arise when considering these processes.
Firstly, it is about looking at the object of our research, namely sugar sachets, not as the final product that we subject to analysis, but as the process of their coming into being, which can be seen as a kind of biography of things. Just as it is possible to discern several most important stages in a person's life, such as birth, reaching adulthood, starting a family, or death, sugar sachets also go through critical moments in their existence, which allow us to understand the nature of their passing. However, viewing them in this way is alien to the tradition of European thought, which rejected the Heracletian pantha rei in this respect in favour of the Aristotelian understanding of objects as a combination of form (morphe) and matter (hyle). Secondly, as Tim Ingold writes: "form began to be seen as imposed by some external perpetrator in whose mind a certain project exists, while matter, understood as passive and inert, became what that project was imposed on". Meanwhile, in terms of the use of things, materiality co-creates objects as equal to the people who influence it, which stems from the fact that, as Edmund Husserl writes, a subject does not exist without an object. Vilem Flusser explains this by the fact that: "there is no such thing as a human spirit [that is, the subject], on the one hand, and an objective environment on the other, but there is a human-environment relationship.
In the context of the theory we are advancing, this implies a way of understanding design as a process in which objects are shaped under the influence of the pairs of relations that constitute them. The first of these connects the subject, i.e. human competences, with the object, which is the properties of things, used by people in creating and using them. The second unites the materiality of the objects in question with their meaning, just as in Ferdinand de Saussurre's view, the signifié element cannot exist without the signifiant element, for example, the word "tree" cannot exist without the object itself, that is, the tree. From this perspective, looking at the biography of things, we can see that they "flow" in the Heracletian sense, as the above relationships are not static but change dynamically, depending on who uses the object and how, and because its ontological transformation also verifies its semantics. Example products, such as disposable sugar sachets, which become a commodity in marketing, do not have to present their real meaning, but can promote the meaning created in advertising.
The metamorphosis of objects that reflect this process reveals the complex nature of things, which even in such banal representations as sugar sachets or sugarcubes combine human intentionality with material agency, and their material functions with semiotic functions. We seek to demonstrate all this in the six chapters of our book.
Publication from 2020

Mikołajczak Aleksander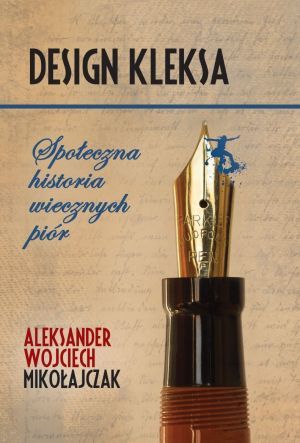 Design kleksa. Społeczna historia wiecznych piór [Design of the blot. Social history of fountain pens], Wydawnictwo Naukowe UAM, Poznań 2020.
It is a pioneering monograph on writing instruments in Poland, as well as one of the first books in the world literature devoted to the social and cultural functions of fountain pen design in the history of the 20th century. The book presents how the civilizational changes taking place in the world at that time influenced the development of these instruments and how their evolution in turn influenced the lifestyle of the people writing with them. This view allows us to show the creative function of design in creating social relations in which the shape of the human world became involved, subjected to enormous pressure of techno-logical, economic and cultural challenges at that time. The book is dedicated to everyone who wants to broaden their understanding of the world with a new, surprising point of view, which creates a reflection on the role that foun-tain pens played in the experience of the last century. It is intended for readers who in their relations with objects see today the important context of everyday life, as well as inspiration to reflect on the truth of things. I am convinced that designers, culture scholars, historians, sociologists, design researchers, as well as literary scholars and literature critics can useful-ly use Design of the blot. I think this book will also be interesting reading for those who are still writing with fountain pens and feel an emotional connection with them. Among them is the rapidly growing group of collectors in Poland and in the world who have so far used mainly foreign literature and the Internet.
Publication from 2020

Junkiert Maciej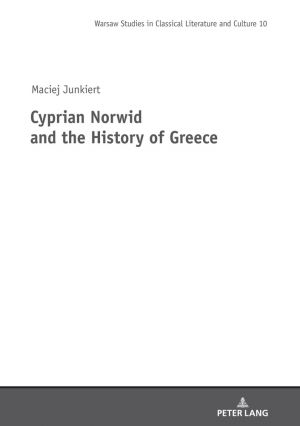 Cyprian Norwid and the History of Greece, Peter Lang Publishing Group, Berlin 2020.
Ancient Greek history holds a special place in the works of many 19th-c. writers. The same goes for Cyprian Norwid, one of the most eminent poets in the history of Polish literature, a thinker, and an artist. This book scrutinizes Norwid's fascination with Greek history and culture, especially his peculiar synthesis of Greek thought and Christianity. It focuses on the key themes of the relationship of Platonism with early Christian writings and their presence in Norwid's contemporary culture, the opposition of memory and history in 19th-c. literature and social life, and the image of the artist and its influence on social life in modern everyday. The book analyzes Norwid's oeuvre in a broad comparison with representatives of French, German, and British literature and the humanities.
Publication from 2020

Gajewska Grażyna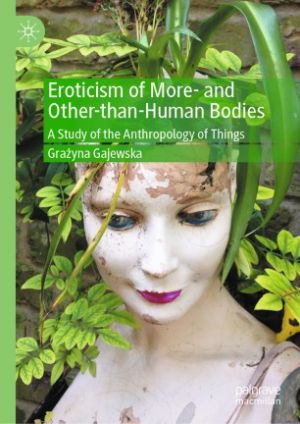 Eroticism of More- and Other-than-Human Bodies, Palgrave Macmillan, Cham 2020.
Focusing on non-human actors, Grażyna Gajewska expands the discussion of eroticism in contemporary culture by bringing in material culture, object studies, and "the anthropology of things." She sets out from the assumption that things (such as, for instance, attire, underwear, shoes, or jewelry) play an important role in arousing erotic imagination—they are genuine participants in the process, not mere signifiers of eroticism. Their use does not denote only undeniable facts of everyday life associated with functionality, the pragmatic or aesthetic aspect, but also contribute to the shaping of human emotions, fantasies and phantasms. In her study, Gajewska brings eroticism in contemporary culture to light through applying gender studies to new contexts—animals, robots, virtual worlds—even as she explores a new methodology, the anthropology of things.
Publication from 2020

Ewertowski Tomasz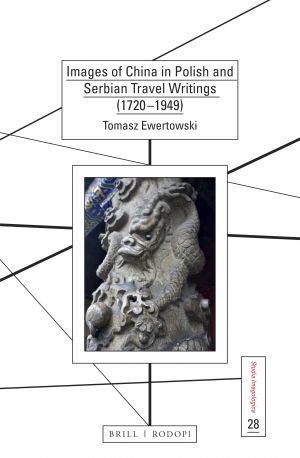 Images of China in Polish and Serbian Travel Writings (1720-1949), Brill, Leiden-Boston 2020.
In Images of China in Polish and Serbian Travel Writings (1720-1949), Tomasz Ewertowski examines how Polish and Serbian travelers described China, surveys various factors which influenced their style of writing, and illustrates the social, political and intellectual context that determined their different representations of the Middle Kingdom. The corpus includes a vast array of texts written by more than 80 authors who traveled to China from the 18th to the mid-20th century, including sources that have not been published. Besides making new facts and sources accessible, the research presented in this book introduces a comparative perspective and provides a thorough literary and cultural analysis of the aforesaid travelogues.
Publication from 2020

Bednarek Magdalena
Baśni przeobrażone. Transformacje bajki i baśni w polskiej epice po 1989 roku [Fairy Tales Transformed. The Metamorphosis of Fairy Tales in Polish Literature after 1989], Wydawnictwo Naukowe UAM, Poznań 2020.
Summary in English is available here.
Publication from 2020

Bartol Krystyna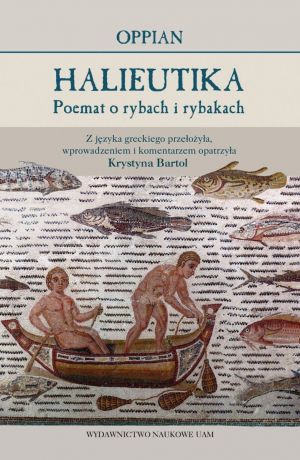 Oppian, "Halieutika" – Poemat o rybach i rybakach, Wydawnictwo Naukowe UAM, Poznań 2020.
The epic Halieutica, written by the second-century AD poet Oppian, was a work thematically and artistically attractive for the ancient reader. It remains such for the contemporary reader, too. In the poem, Oppian tells a common story about the habits of marine animals, and the key principle in presenting the underwater world and its inhabitants is anthropomorphisation. The poetic presentation of fishermen's struggles with deep-sea creatures is, in the author's view, a moral-philosophical reflection on the unity of different elements of the world and the place occupied by humans. Consisting of more than three thousand hexametric verses and dedicated to Emperor Mark Aurelius, the poem is still dazzling with its different moods, refined erudition and elegance of poetic phrase. The epic poem measure of the original was rendered in the Polish translation using a traditional thirteen-syllable meter (retaining an identical number of verses).